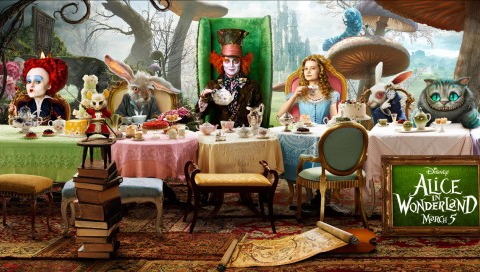 This Tuesday night, I finally saw the new Alice in Wonderland! I've been wanting to forever but things come up and I fall so behind in my movie list to see.
Anyways, if you haven't seen it, it's amazing! And if you have seen it, ISN'T IT AMAZING?! –haha
If you have ever seen the original movie, I think you'll like this one as well just the same.
I'm obsessed still with Disney movies, I still have a huge collection and still love to watch all those ones we all saw as younger kids. So when I heard forever ago, that they were making another version of this movie I got super excited and knew I had to see it, before the commercials even came out yet haha.
So anyways, it was really good and defiantly worth the wait. I love Johnny Depp, I'm pretty sure that ever movie he has been in I've loved. Same goes for Anne Hathaway.
Tim Burton did a great job with this one for sure!